Manual Handling Injuries are the largest single cause of accidents within the workplace in Ireland. To comply with the 2007 Manual Handling Regulations, staff engaged in manual handling must be trained in the safe handling of loads.
This People & Patient Handling Training Course will train your staff to carry out manual handling tasks correctly and therefore avoid back injuries. By providing People/Patient Handling training for your staff you are complying with Health and Safety regulations and helping to prevent injuries in the workplace.
Training delivered onsite at your company's premises
1 day course
Up to 12 participants
Valid for 3 years
Refresher training available
Who should do this course?
Employees who assist with the movements of patients with injury or decreased mobility
Carers, First Aiders, Healthcare Workers, people working in Nursing Homes, Hospitals and Respite Centres
Related Courses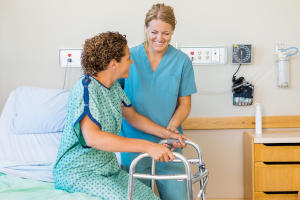 ENQUIRE ABOUT PEOPLE & PATIENT HANDLING
Fill in the form and we will contact you back. Fields marked * are required.
Patient Handling Training Course
Course Objectives
On completion of this Patient Handling course participants will be able to:
Recognise a load which is too heavy or awkward
Conduct a patient handling risk assessment
Lift and handle patients safely
Course Certification
Certification will be provided on successful completion of this People & Patient Handling training course. Certification is valid for 3 years.
Course Instructors
All our instructors are fully qualified Patient Handling Instructors, having achieved Level 6 in the National Framework of Qualifications (QQI). All course instructors hold a minimum of Train the Trainer qualification.
Course Content
Dangers of careless and unskilled lifting methods
Legislation
Hazard Identification and Risk Assessment
Principles of levers and laws of motion
Anatomy of the spine and muscular system
How the body is harmed through incorrect patient handling techniques
Importance of physical fitness
Personal protective equipment
Normal patient movement
Patient handling aids and techniques