There is a legal requirement Regulation (EC) 852/2004 that all food handlers undertake food safety training commensurate to their duties.
The Food Safety & Hygiene HACCP Level 2 course takes into account all the requirements of Food Safety legislation and standards based on the Guide to Food Safety Training published by the Food Safety Authority of Ireland (FSAI).
No previous experience or qualifications are required to do this training course.
Training delivered onsite at your company's premises
Course duration: 5 hours approx.
Up to 12 participants
Certification valid for 3 years
Certification recognised by all Environmental Health Officers and Inspectors in Ireland
Who should do this course?
Those with no previous experience/qualifications
Those working in or intending to work in the food industry in Ireland
Related Courses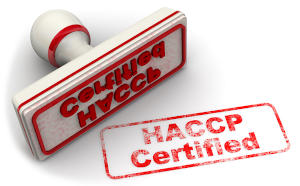 ENQUIRE ABOUT FOOD SAFETY/HACCP 2 TRAINING
Fill in the form and we will contact you back. Fields marked * are required.
Food Safety/HACCP Level 2 Training Course
Course Objectives
On completion of the Food Safety/HACCP Level 2 Training course, participants will have the skills to implement Food Safety Processes & Procedures, including:
Food hygiene awareness
Food delivery
Food storage
Food preparation, cooking and hot holding
Personal hygiene and good hygiene practices
Pest control
Cleaning awareness
HACCP awareness and monitoring requirements
HACCP Food Safety Certification
On completion of the course there will be a short multiple choice written assessment (an oral assessment can be taken by arrangement with the tutor). Participants will be awarded a Certificate in Food Safety/HACCP Level 2 which is valid for 3 years.