Employers are legally required to prepare an Emergency Plan which outlines how the workplace will be evacuated in the event of a fire outbreak.
Fire Wardens/Marshals are designated the responsibility of executing this plan in an emergency situation. This course aims to ensure that Fire Wardens/Marshals are aware of their responsibilities including arranging fire drills effectively. It also details the steps involved in developing an Emergency Plan which is specific to your premises.
Training delivered onsite at your company's premises
5h course
Up to 12 participants
Valid for 2 years
Refresher training available
Who should do this course?
Management/employees designated as Fire Wardens/Marshals in their organisation.
Related Courses
Fire Safety Services
SafeHands also provides comprehensive Fire Safety services: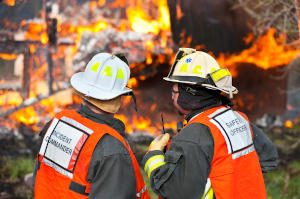 ENQUIRE ABOUT FIRE WARDEN TRAINING
Fill in the form and we will contact you back. Fields marked * are required.
Fire Warden/Marshal Training
Course Objectives
On completion of the Fire Warden training course participants will be able to:
List and understand their duties as Fire Wardens/Marshals
Describe the chemistry of fire
Identify fire hazards in the workplace
Manage and control fire evacuation procedures and drills
Select and use the appropriate fire fighting equipment to deal with an undeveloped fire
Monitor fire controls
Course Certification
Certification will be provided on successful completion of this Fire Warden training course. Certification is valid for 2 years.
Course Content
The mechanics of fire, smoke and dangerous gases
Fire extinguishers, hose reel equipment and fire suppressants
Incidents involving flammable liquids and gases
Storage of flammable liquids and gases
Common fire safety hazards
Means of escape
Duties of the fire wardens/marshals in emergency
Hazard spotting and elimination of bad practices
Legislation
Methods of Evacuation
Basic fire prevention