On completion of this FAR Course participants will be able to provide necessary first aid within the workplace and at home, deal with emergencies and implement essential life saving skills (apply CPR and use Automated External Defibrillator) as required by the Safety, Health & Welfare at Work (General Application) Regulations 2007.
Successful candidates will be awarded the PHECC certificate.
Training delivered onsite at your company's premises
3 day course
Up to 8 participants
PHECC certification valid for 2 years
Refresher training available
Who should do this course?
This course is ideal for those with no previous experience who want to:
Provide First Aid in the workplace
Learn how to deal with emergencies and implement essential life saving skills
Undertake cardiac first responder training in external defibrillators (AED)
Qualify as a First Aid Responder
Related Courses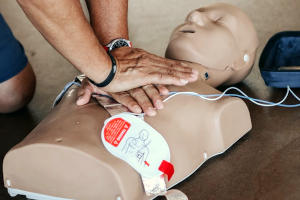 ENQUIRE ABOUT FIRST AID RESPONDER COURSE
Fill in the form and we will contact you back. Fields marked * are required.
First Aid Responder Training
This is an intensive 3 day course.
Responsibilities of a first aid giver
Diagnosis and principles of treatment
The Nervous System
Head Injuries
Shock - Fainting
Unconsciousness
Patient Approach
Examination of Casualty
Recovery Position
Asphyxia and its causes
Cardio-pulmonary resuscitation practical - CPR, AED Defibrillator
Treatment of foreign bodies
Examination of the eye
Poisoning
Burns and Scalds
Corrosive injuries
Chemical splashes
Blood and the circulation system
Wounds and bleeding
Control of bleeding
Dressings and bandages
Fractures - causes, types, signs and symptoms
Sprains, strains and dislocation
Crush injuries
General rules for treatment
Handling and transport, including improvisation
Dressing and bandaging fractures
Epilepsy, Asthma and Diabetes
Emergency First Aid Kits - contents
Revision - practical, any requested subject
Examination - written test, practical incident scenario and CPR test
Course Assessment
This is a highly interactive course with emphasis on practice and demonstration. Assessment is by written test and practical skills exam.
Basic life savings skills (CPR) - 40%
Skills demonstration (x2) - 40%
Examination (short answer question) - 20%
Course Certification
A First Aid Responder certificate is awarded to participants on successful completion of this course. This certification is valid for 2 years and can be renewed on completion of a one-day refresher course.
Refresher Training / Certification Validity Period
First Aid Responder certificate is valid for 2 years and can be renewed on completion of a 1 day refresher course.