Manual Handling Injuries are the largest single cause of accidents within the workplace in Ireland. To comply with the 2007 Manual Handling Regulations, staff engaged in manual handling must be trained in the safe handling of loads.
This Manual Handling course will train your staff to carry out manual handling tasks correctly and therefore avoid back injuries. By providing Manual Handling training for your staff you are complying with Health and Safety regulations and helping to prevent injuries in the workplace.
Training delivered onsite at your company's premises
3 hour course
Max 12 participants per course
Certification valid for 3 years
Who should do this course?
ALL employees are required to undergo Manual Handling training
ALL employees are required to repeat this course every 3 years
Related Courses
In certain workplaces Manual Handling training requires additional specialist modules. Please see also: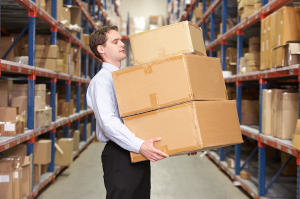 Enquire about onsite company training
Aims & Objectives
The aim of this Manual Handling Training Course is to provide participants with the knowledge, skills and attitude to enable them to lift and move loads in accordance with good manual handling techniques and to avoid risk of injury. On completion of the course participants will be able to:
Recognise a load which is too heavy or awkward
Understand the limitations of the spine and muscular system
Lift and handle loads safely
Course Content
Dangers of careless and unskilled lifting methods
Manual handling Legislation
Principles of levers and laws of motion
Anatomy of the spine and muscular system
How the body is harmed through incorrect manual handling techniques
Importance of physical fitness
Use of Personal Protective equipment
How to handle loads safely
Practice lifting to and from ground level
Practice lifting to and from a height
Practice pushing and pulling
Practice lifting bags/sacks or other loads appropriate to the workplace
Course Certification
Certification will be provided on successful completion of this Manual Handling training course. Certification is valid for 3 years.