New EU food labelling rules agreed in 2011 make it mandatory from December 2014 to declare the use of specified allergens, regardless of whether the food is pre-packed or not pre-packed. These new EU regulations cover everything from loose food in shops to food sold in restaurants, pubs, takeaways, contract caterers, food stalls, as well as food being delivered.
This course focuses on the new EU Food Allergen Regulations in great detail. How it applies to your business and what action you need to take to comply with the regulation.
Training delivered onsite at your company's premises
3 hour course
Up to 12 participants
Certification valid for 2 years
Who should do this course?
All those involved in the food industry in Ireland who are not familiar with this new EU Regulation.
Related Courses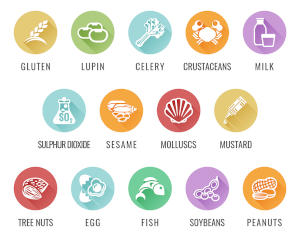 ENQUIRE ABOUT FOOD ALLERGENS TRAINING
Fill in the form and we will contact you back. Fields marked * are required.
Food Allergens Training Course
Course Objectives
Understanding the basics of Food Hygiene and Safety
What is an Allergen?
What is Food Intolerance?
Understanding your responsibilities regarding allergens
Recognising the symptoms of an allergic reaction from mild to severe
Labelling and traceability
What are the 14 official allergens?
Understanding the new laws and regulations which came into effect on 13th December 2014
Food Businesses Affected
From December 13th 2014, all food businesses using or handling food allergens are required to declare the use of food allergens in food products (including beverages) whether prepacked or non-prepacked. This is a new legal requirement for food businesses including restaurants, pubs, takeaways, contract caterers, food stalls (mobile and stationary) as well as businesses offering delivery services.
Retail outlets such as shops and supermarkets selling prepacked food will have to extend their allergen declarations to their non-prepacked products. A variety of other businesses and institutions providing non-prepacked food includes childcare and healthcare facilities, detention centres as well as meals provided or delivered free of charge by charitable institutions or organisations.